Departure, The Brand Story
---

▌ Depart .Capture the Moment
---
Brand Design Concept
Departure is founded by a group of industry professionals, aiming to deliver the finest products at a justifiable price. The brand's design concept is based on simplicity, elegance and trendy. Departure products are manufactured from the highest quality, highly durable raw materials, taking up sturdiness as the main principle, providing a sense of subtle luxury to leisure and business travellers.
Over 20 Years of Premium Luxury Products Manufacturing Experience
The company has developed market trend sensibility and responsiveness through 20 years of experience being an Original Equipment Manufacturer (OEM). The company initially design, develop and manufacture for world premium luxury brands. The founder's profound experience and knowledge about this industry eventually led to the decision of creating the Departure brand.
Creating a Trustworthy Brand
Departure manages the entire process from product design, research, development, manufacture to distribution.
Every Departure product has to go through more than 100 stages of performance and quality tests, ensuring the delivery of exquisite end products. Products have to be rigorously tested through six major tests, over ten tasks are designed specifically to test the performance of trolley handle and wheels. Each luggage obtains at least three patented design and has passed the RoHS (Restriction of Hazardous Substances Directive) standard test. Departure brand is synonymous with reliable, stylish, practical and trustworthy.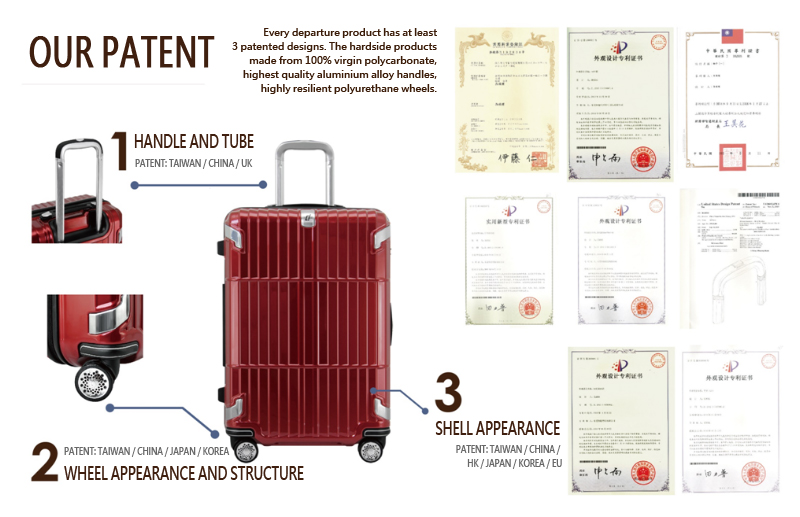 ---
Artisan's Craftsmanship
Departure products are designed to accommodate travellers' various needs.
Departure thrives for innovation through pragmatic production, selection of the finest raw materials, professional quality control and the combination through modern technologies.
Uncompromising Quality
Departure only produce from the finest locally sourced raw materials, preserving the integrity of true Taiwanese production without compromising to market pressure.
Best Companion for Your Journey
Luggages are essential for travellers, they are not just an accessory but an important partner for each journey. Create memories with your Departure and let it accompany you for a relaxed and pleasant journey.
Departure provides premium after-sales service, a five-year warranty with free repair services. For more information, kindly visit our Warranty & After-Sales Service section.